Valcor News Releases & Blog
The Valcor News Releases and Blog is a collection of interviews, published articles and posts regarding small business debt, restructuring and capital acquisition.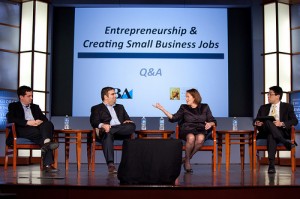 Media inquiries: Please see the right sidebar for our phone number and email address.
As today's business world becomes more competitive than ever, small business owners, startups and entrepreneurs are having to rethink certain strategies, including how to approach various real estate options when looking for a store of office to start out in.
Release Date Sep 21, 2017
Election year 2016 is anything but predictable. However, the economic numbers for the first half of 2016 are in, and they are not good. Sounding very similar as to the past nine years, the U.S. economy grew 'less than forecast' to an abysmal 1.2%. Just for comparison, a steady economy needs between 3-4% GDP just to stay even with population. Anything above 4% can be considered real growth.
@NewYorkTimes @Bloomerberg @NFIB
Release Date July 31, 2016
Business Expectations 2016-2018
Now the world is facing contractions with fears from the Eurozone, China, South America and specific regions of the U.S. which are technically in recession.
Small business is the canary in the economic coalmine and the signals from within deep are not good.
@CNBC @Reuters
Release Date June 30, 2016
When you need a quick cash infusion — say, to meet payroll or buy inventory for your small business — a traditional business loan isn't the only, or even the best, option. A line of credit will often provide the money you need as well as flexibility. Instead of an upfront lump sum that you repay monthly, you can dip into a line of credit as needed.
Here's a closer look at two options for small-business owners who need working capital: OnDeck's line of credit and business credit cards. OnDeck is one of just a few online lenders that offer a line of credit; other lenders such as Prosper, LendingClub and Smartbiz offer term loans.
Steve Nicastro interviewed Valcor CEO David Sussman for this NerdWallet Small Business article.
Release date: July 24, 2015
Business credit cards offer small-business owners a number of benefits — they keep personal finances separate from business finances, frequently come with rewards and often offer a higher credit limit than a personal credit card.
The cards have their downsides, too, including the risk of running up unpaid debt — for which the small-business owner is likely personally liable. But for quick, convenient access to capital, they're hard to beat.
Steve Nicastro interviewed Valcor CEO David Sussman for this NerdWallet Small Business article.
Release date: July 6, 2015
The Lego Movie intelligently exemplified 'art imitating life'; what is presented to the masses may not always be what it seems.
For example: Politicians and the mainstream media are delivering the economic version of Everything is Awesome! to weary & exhausted U.S. denizens who desperately seek good economic news.
Release date: February 3, 2015
Across the country, small business owners fall on both sides of the debate, many wrestling to reconcile the moral implications of low wages with the financial realities of running their businesses. Capital One interviews Valcor CEO David Sussman.
Release date: July 23, 2014
Is the U.S. Becoming a Nation of Endangered Entrepreneurs?
-Recent reports show business owners and those who hope to become one (wantrepreneurs) may be a dying breed.
Release date: June 26, 2014
The past few years have pushed many small businesses to the breaking point. Some business owners have had partners or others use personal credit for the business putting liability on the borrower, not the business. Elaine Pofeldt interviewed Valcor CEO David Sussman for this CreditCards.com article.
Release date: February 26, 2014
'It was 20 years ago today'… In 1994 the economy was coming out of recession. Our fledgling business consulting firm was just getting going while we were all facing an incoming technological tsunami that would forever change the way we communicated.
Release date: January 15, 2014
The Small Business Influencer Awards honor those who are influential to small businesses in North America, through the products, services, knowledge, information or support they provide to the small business market.
Release date: October 27, 2013
If the U.S. government defaults on its obligations, several immediate changes would occur, which could directly affect you
Release date: October 15, 2013
The fiscal cliff can was kicked down the road (yet again), and the sequester and debt ceiling debates have been volleyed by the partisans. And now the mainstream media and politicians are saying that we're in a recovery.Business owners aren't convinced.
This article by Valcor CEO David Sussman was featured on Six Figure Jobs
Release date: May 11, 2013
Elaine Pofeldt interviewed Valcor CEO David Sussman for this CreditCards.com article
Release date: January 16, 2013
The word small business owners used most in 2012 was "uncertainty." What will 2013 bring?
Release date: January 16, 2013
Small businesses are having a hard time justifying hiring new employees, and those they do hire are now seeing their earning power reduced. This is causing a widespread reduction in the standard of living for many crossing middle class, upper middle class and even the wealthy.
Release date: August 12, 2012
Earlier today, the Bureau of Labor Statistics released the latest unemployment rate: 8.1%. Sounds great, right? It's not – in fact, this figure could easily be included in the next edition of "How to Lie with Statistics."
Release date: May 5, 2012
The International Association of Business Mediation Consultants reports on the state of the small business economy. The big question many business owners are asking: "where is the recovery?"

Release date: April 21, 2012
While larger businesses are starting to recover, the small business is still under tremendous pressure.
Release date: January 10, 2011 
Small business owners are asking "Is there a bottom in sight?" Simply put: No. In the decades Valcor has provided small business Debt Mediation services, the economic trends have never looked so disturbing.
Release date: July 1, 2010
Valcor works directly with small business owners to provide business consulting, turnaround and business debt mediation services. These companies make up the American economy. Here are their concerns.
Release date: June 9, 2009
Due to the current economy, the established financial services firm is now seeking Licensees throughout North America to expand.
Release date: May 29, 2009