Valcor News Releases & Blog
The Valcor News Releases and Blog is a collection of interviews, published articles and posts regarding small business debt, restructuring and capital acquisition.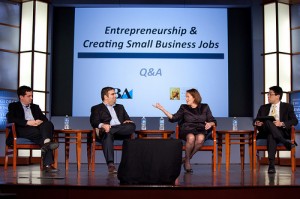 Media inquiries: Please see the right sidebar for our phone number and email address.
What Every New Business Needs for Operations in the First Five Months
Human Resources is the Glue Holding Your Organization Together
Make or Break: How to Find the Best Employees for Your Business
Tea Leaves? Credit Card Debt and Delinquencies Surpass 2008 Levels
OnDeck Line of Credit vs. Business Credit Card: Which is the Better Option for Your Small Business?
Business credit cards offer small-business owners a number of benefits — they keep personal finances separate from business finances, frequently come with rewards and often offer a higher credit limit than a personal credit card.
The cards have their downsides, too, including the risk of running up unpaid debt — for which the small-business owner is likely personally liable. But for quick, convenient access to capital, they're hard to beat.
Steve Nicastro interviewed Valcor CEO David Sussman for this NerdWallet Small Business article.
Release date: July 6, 2015
Valcor Named 2013 Champion – Small Business Influencer Awards
Why You Should Care About the Debt Ceiling Debate – DailyWorth interviews David Sussman
What business recovery? 75% of small business owners are deeply concerned.
Business credit cards or consumer credit cards: Which is right for your small business?
The word small business owners used most in 2012 was "uncertainty." What will 2013 bring?
Release date: January 16, 2013
Small businesses are having a hard time justifying hiring new employees, and those they do hire are now seeing their earning power reduced. This is causing a widespread reduction in the standard of living for many crossing middle class, upper middle class and even the wealthy.
Release date: August 12, 2012
Earlier today, the Bureau of Labor Statistics released the latest unemployment rate: 8.1%. Sounds great, right? It's not – in fact, this figure could easily be included in the next edition of "How to Lie with Statistics."
Release date: May 5, 2012
The International Association of Business Mediation Consultants reports on the state of the small business economy. The big question many business owners are asking: "where is the recovery?"

Release date: April 21, 2012
While larger businesses are starting to recover, the small business is still under tremendous pressure.
Release date: January 10, 2011 
Small business owners are asking "Is there a bottom in sight?" Simply put: No. In the decades Valcor has provided small business Debt Mediation services, the economic trends have never looked so disturbing.
Release date: July 1, 2010
Valcor works directly with small business owners to provide business consulting, turnaround and business debt mediation services. These companies make up the American economy. Here are their concerns.
Release date: June 9, 2009
Due to the current economy, the established financial services firm is now seeking Licensees throughout North America to expand.
Release date: May 29, 2009