Business Expectations 2016-2018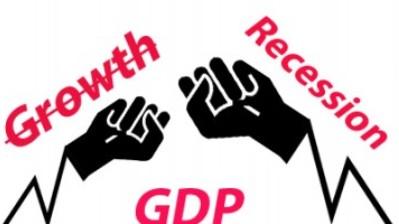 The past 6 months have seen very slow, almost no growth as the economy scrapes along the bottom of the GDP barrell. It's no secret unemployment numbers have come down, but many suggest the reasoning is the increasing numbers of people who have dropped out of the workforce, either through retiring early, working under the table or simply giving up.
Now the world is facing contractions with fears from the Eurozone, China, South America and specific regions of the U.S. which are technically in recession.
Small business is the canary in the economic coalmine and the signals from within deep are not good.
CNBC reports:
While investors have been focused on the perennial failed hope for a second half economic recovery, they have been missing the most salient point: the U.S. most likely entered into a recession at the end of last quarter.
That's right, when adjusting nominal GDP growth for core consumer price inflation for the average of the past two quarters, the recession is already here.
With both of these vital indicators pointing south, it should come as no surprise that Reuters recently reported that the Organization for Economic Co-operation and Development (OECD) said that global trade would only grow by, "2 percent this year, a level it has fallen to only five times in the past five decades and that coincided with downturns: 1975, 1982-83, 2001 and 2009."
There is little debate that the worldwide economy is stagnating, and despite what some would like to argue, the United States has not been immune from this slowdown at all.
As the media focus on polarizing it's viewers and dissecting political personalities, candidates would do well to remember what is really important to the voters; Their small business pocket book which is thinning quicker than the ice under the American economy.
Topics: Economy, , 2016, CNBC, election, recession, Reuters