Tea Leaves? Credit Card Debt and Delinquencies Surpass 2008 Levels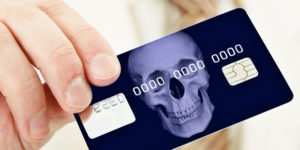 The economy has improved and small business optimism is finally increasing for the first time in a decade. Business regulations are being reversed faster than any time in recent history. Hiring is up, wages are creeping higher and unemployment is low.
All good, right? Yes, from the surface. However, today's report from Federal Reserve shows confident consumers are now going deeper into debt, which is a "warning signal of potential trouble down the road". As reported in USA Today:
Revolving credit, mostly credit cards, increased by $11.2 billion to $1.023 trillion, the Federal Reserve said Monday. That nudged the figure past the $1.021 trillion highwater mark reached in April 2008, just before the housing and credit bubbles burst. Over the past year, revolving credit has surged by $55.1 billion, or 5.7%, according to the Fed and Contingent Macro Research.

Non-revolving credit, such as auto and student loans, rose by $16.8 billion to $2.8 trillion in November.
Possibly more concerning are delinquencies.
Credit card delinquencies have increased to about 7.5% from 7% a year ago, underscoring, growing stresses for low-income households in particular.
Let's keep in mind since the banking industry wrote major parts of the Dodd-Frank Act, banks can and do charge upward of 30 percent plus on delinquent borrowers, almost ensuring borrowers will never get out of debt.
Now we are not ringing the alarm bells just yet. With the stock market at record highs, the top 10% of the population are enjoying significant returns. However, we always look toward potential pitfalls and when credit cards are used by more people, we see more threats to the lending community which in turn can further restrict what is still a tight lending environment.
We will continue to monitor this trend into 2018.
Topics: Economy, , business credit, Credit card, delinquencies